Empowering ULSSI's Innovation Team through an AI-powered knowledge system
We worked with the ULSSI Innovations Team to come up with an Idea Management Tool to cut down time in searching for ideas. Using our Document AI product suite we developed an AI-powered knowledge solution. The team can now quickly search and save documents in one creative hub.
IdeaHQ now assists them by suggesting ideas related to the documents that matter to them. Using this tool enables the Innovations Team to save time in searching for information and allows them to focus on the process of finding insights.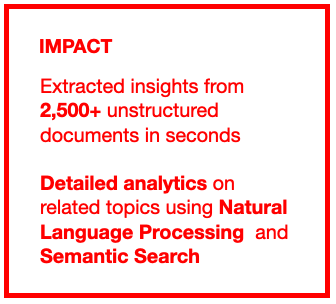 ---
THE CHALLENGE
UL Skin Sciences, Inc. (ULSSI) is the personal care subsidiary of United Laboratories Inc. (Unilab), creating solutions backed by health and science and managing well-loved brands such as Myra, pHCare, and Celeteque.
The ULSSI Innovations team is responsible for developing new ideas for the organization and has been continuously looking for tools that will enable a systematic way of collating and generating new ideas. They reached out to Thinking Machines to strategize a scalable technology solution.
THE SOLUTION
We helped ULSSI by building IdeaHQ, a smart Idea Management Tool that houses all their innovation ideas and research. By leveraging natural language processing (NLP) models, the tool streamlines their process for collecting, discovering, and organizing information.
Collection: Centralized Database and Auto-tagged Content
As a proof-of-concept, we worked with the Innovations team to bring six data sources together into one centralized repository.
We used Google Cloud Platform to create a pipeline where fresh data is ingested from ULSSI's internal databases and selected online sources, and is stored in a cloud data warehouse. The database is automatically updated every day so ULSSI always has access to the latest data.
Once there, our machine learning model automatically sorts each piece of content into pre-selected broad categories and tags it with keywords.
Our models use some of the latest developments in Natural Language Processing (NLP), the growing field of machine learning which helps extract meaning from unstructured text. The keyword tagger was adapted from the TextRank and PageRank algorithms that are also used by Google Search to rank web pages, which creates a network of related words and phrases and ranks them according to relevance and diversity.
The categorization model was custom-built by training it on a dataset of hundreds of articles tagged by ULSSI's Innovation Team. We found that training on the top 10 sentences found in each document yielded the highest predictive power to classify new documents. The documents tagged by these ML models are then written to Elasticsearch, a database to store texts in these documents and perform text search using its built-in functions optimized for text.
Discovery: AI-Powered Smart Search
We also equipped the Innovations Team with a powerful smart search interface that surfaces the most relevant articles and displays Tweets and Google Adwords & Trends in the Philippines.
Instead of simple keyword matching, the search engine uses machine learning algorithms to rank and display results based on three criteria:
Popularity - how often the document was accessed
Recency - when the document was published
Relevance - the number of times the search query is found in the ingested documents and the importance of each term in the query
The search will also call the Twitter API to show related tweets from the Philippines in the past 7 days. Our machine learning algorithm sorts these tweets into topics to give users an overview of what they are about.
We also cached Google Adwords & Trends data and created a plot graph displaying the search volume trends of these keywords.
Organization: Knowledge Management Interface
To round out the Idea Management Tool, we created an interface for users to manage and curate their documents. Each user can organize their searched documents in folders, add notes and tags with links to the full document.
As more documents are added to the folder, an AI model can recommend related ideas.
THE TOOLS
Airflow - platform to programmatically author, schedule, and monitor workflows
Google Cloud Storage - an online file storage web service
ElasticSearch - an open-source full-text search and analytics engine
ReactJS - an open-source library used for building user interfaces
Django - an open-source python web framework
PostgreSQL - a relational database management system
Docker - a tool designed to help create, deploy, and run applications
THE IMPACT
Using IdeaHQ, the ULSSI Innovations Team now has a holistic approach to finding ideas. What was once a complex and very manual process now becomes easy with the help of AI.
By automating the process of gathering and tagging multiple content, the Innovations Team can eliminate these menial tasks and focus instead on crafting new ideas. Using the Smart Search Engine to surface recent and relevant content, the discovery process is now made efficient, and by putting everything together in a custom interface, documents become more organized and easier to access.
By leveraging AI to process their data, ULSSI looks to stay on top of the industry. While ULSSI is currently working with us to improve their processes, we look forward to working with ULSSI to further push the boundaries of AI-powered knowledge solutions. According to Jose Antonio S. Evangelista, Operating Vice President of ULSSI, "We appreciate how our partner Thinking Machines laid out the framework to get to the Alpha release of the IMT, ensuring that the objectives of the project are met and the tool is ready for future enhancements – from the design thinking workshops, wireframe consultations, regular checkpoints to the UAT until Alpha release."